---
The Subversive Copy Editor
Advice from Chicago (or, How to Negotiate Good Relationships with Your Writers, Your Colleagues, and Yourself)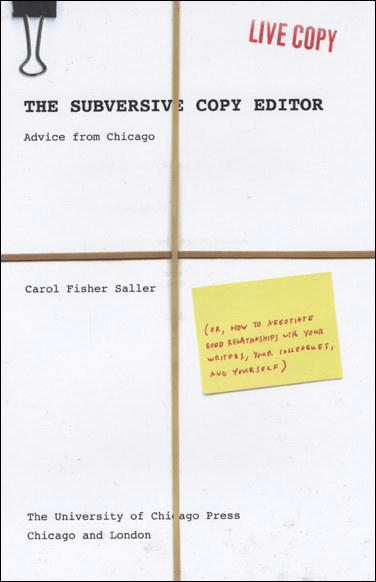 148 pages | 5 x 8 | © 2009
Each year writers and editors submit over three thousand grammar and style questions to the Q&A page at The Chicago Manual of Style Online. Some are arcane, some simply hilarious—and one editor, Carol Fisher Saller, reads every single one of them. All too often she notes a classic author-editor standoff, wherein both parties refuse to compromise on the "rights" and "wrongs" of prose styling: "This author is giving me a fit." "I wish that I could just DEMAND the use of the serial comma at all times." "My author wants his preface to come at the end of the book. This just seems ridiculous to me. I mean, it's not a post-face."
In The Subversive Copy Editor, Saller casts aside this adversarial view and suggests new strategies for keeping the peace. Emphasizing habits of carefulness, transparency, and flexibility, she shows copy editors how to build an environment of trust and cooperation. One chapter takes on the difficult author; another speaks to writers themselves. Throughout, the focus is on serving the reader, even if it means breaking "rules" along the way. Saller's own foibles and misadventures provide ample material: "I mess up all the time," she confesses. "It's how I know things."
Writers, Saller acknowledges, are only half the challenge, as copy editors can also make trouble for themselves. (Does any other book have an index entry that says "terrorists. See copy editors"?) The book includes helpful sections on e-mail etiquette, work-flow management, prioritizing, and organizing computer files. One chapter even addresses the special concerns of freelance editors.
Saller's emphasis on negotiation and flexibility will surprise many copy editors who have absorbed, along with the dos and don'ts of their stylebooks, an attitude that their way is the right way. In encouraging copy editors to banish their ignorance and disorganization, insecurities and compulsions, the Chicago Q&A presents itself as a kind of alter ego to the comparatively staid Manual of Style. In The Subversive Copy Editor, Saller continues her mission with audacity and good humor.
Table of Contents
Contents
Introduction: I Hear You
Part One: Working with the Writer, For the Reader
1 The Subversive Copy Editor
2 The Good Launch
3 Working for the Reader, through the Writer: Carefulness, Transparency, Flexibility
4 When Things Get Tough: The Difficult Author
5 Dear Writers: A Chapter of Your Own
Part Two: Working with Your Colleagues and Yourself
6 When Things Get Tough (the Sequel): The Dangerous Manuscript
7 Know Thy Word Processor
8 The Living Deadline
9 That Damned Village: Managing Work Relationships
10 The Freelancer's Quandaries
11 The Zen of Copyediting
Appendix: You Still Want to Be a Copy Editor? Breaking In
Acknowledgments
Further Reading
Index

Review Quotes
William Safire | New York Times
"An insider's book to cure writers . . . while shoring up editors. . . . Good advice."
TLS | "In Brief"
"One of the great virtues of this book (which has been very well copy-edited) is the many helpful examples of exchanges and situations Saller uses to illustrate her points. Many are real—and some, incidentally, very funny."
American Copy Editors Society
"Carol Fisher Saller . . . knows editing is as much about people as paragraphs, and that mastering diplomacy is as important as mastering stylebooks."
Publishers Weekly Online
"A little insider baseball . . . What may be the best copy editor's companion since the CMS, the AP Style Guide and that dog-eared xerox of copy editing marks you keep tacked up on the cubicle wall. . . . With entire chapters devoted to the freelancer and the writer, and an extensive guide for further reading, this is an ideal complement to any style guide: practical, relentlessly supportive and full of ed-head laughs"
Publishing Research Quarterly
"In this slim volume, Saller not only presents the sometimes muddy art of copyediting in a clear, matter-of-fact way; she has a lot of fun doing it. . . . The Subversive Copyeditor is a wonderful read for anyone involved in copyediting and an especially good 'welcome' gift for the many enthusiastic—and regrettably underpaid—interns now entering the publishing field."
Wendalyn Nichols | Copyediting
"Carol Fisher Saller has hit this one out of the ballpark. Ms. Saller is knowledgeable and funny, her advice practical and relevant, and the book she has written is above all readable. So readable, in fact, that when I received a set of uncorrected page proofs for review, I could not put them down. . . . It was exhilarating, as if I'd been to a revival meeting where Ms. Saller was the preacher and I was the amen corner."
Alan Moores | Booklist
"A wonderfully concise yet nuanced guide for the working (or would-be-working) copy editor. . . . [Saller] wears her experience well, urging flexibility, transparency, and tact—along with, obviously, consistency and reason—in working with authors and their copy."
Arthur Plotnik, author of The Elements of Editing and Spunk & Bite: A Writer's Guide to Bold, Contemporary Style , among others.
"It's no surprise that the droll and (seemingly) all-knowing wizard behind the Chicago Style Q&A puts it all together—entertainingly—for manuscript editors in this real-world guide to job success and survival. The surprise is how urgent it is for every author, client, and boss who works with editors to embrace Carol Fisher Saller's 'subversiveness'—or suffer the next outcome from hell."
Jenya Weinreb
Q. I'm just starting out as a copy editor. I've read the style manuals, but can you suggest a book that will give me a sense of what's important and put my job in perspective?
A. Happily, yes. In The Subversive Copy Editor you will find chatty, sensible advice from the guru behind the Chicago Style Q&A. Carol Fisher Saller's well-reasoned plea for carefulness, transparency, and flexibility will keep both on-staff and freelance editors on the right path.
—Jenya Weinreb, Managing Editor, Yale University Press
Craig Lancaster | Billings Gazette "Watch Yer Language" blog
"Serving the reader by working cooperatively with the writer? Sometimes throwing 'the rules' out the window? Clearing the decks of pet peeves, mythical prohibitions and intractability? That is subversive. And welcome."
Sarah C. Lange | The Writer
"Anyone who has struggled with how to apply various rules to improve her writing would benefit from reading Saller's book. Though it isn't a style guide itself—that's what the Chicago Manual and other guides are for—the book is a perfect complement to such guides."
Amy Einsohn, author of The Copyeditor's Handbook
"Carol Fisher Saller is the mentor that every copyeditor dreams of: wise, smart, shrewd, gracious, generous, and self-deprecating. Her advice on how to manage your deadlines, your computer files and e-mail, your relations with authors and colleagues, and your editorial compulsions, fears, and superstitions will add years (long, happy, productive years) to your life."
Jennifer Balderama | New York Times blog "Papercuts"
"I've got dozens of books concerned with the nuts and bolts of copy-editing, but this is the only one that teaches the fine art of chilling out. . . . Saller's project, in about 100 pages, is to (a) civilize the editing process, and (b) keep copy editors—meticulous and learned and hard-working, but also stubborn and obsessive, sometimes injuriously so—from going insane. . . . There's advice here on deadline management, e-mail etiquette and how to handle 'the difficult author'. . . . 'The Subversive Copy Editor' will remain on my shelf. I think Mr. Bernstein and Messrs. Strunk and White will find Saller to be good company."
Tom Frisbee | Chicago Sun-Times
"An entertaining trip even for those who never plan to lift a red pen or use the editing feature of a word-processing program."
Robert Loerzel | Time Out Chicago
"While copy editors are Saller's target audience, The Subversive Copy Editor includes wisdom that applies to just about anyone: how to ask questions without making them sound like accusations, and how to prevent your in-box from becoming an unmanageable mountain of e-mails."
Jim Foti | Minneapolis Star-Tribune
"Carol Fisher Saller is a comedian in copy editor's clothing--or should that be comedienne? . . . This is not a book about where the commas go, but rather where an editor's hand should and shouldn't go. . . . While the book is probably most useful to new or would-be editors, some of its advice is universal—communicate quickly and directly, be organized but resist compulsion, take deadlines seriously, document everything. Each chapter is prefaced with a question, with the clever answer placed at the end, and her stories from the front lines (the writer who described someone hiking 5,723 miles up a mountain, the editor who used a phone to anonymously wake her napping boss) keep things entertaining."
John E. McIntyre | Baltimore Sun "You don't say" blog
"Carol Fisher Saller is a nicer person than I am—not that that is any great feat. She maintains the question-and-answer feature at The Chicago Manual of Style's online site, giving brisk, concise, helpful and sometimes amused answers to a barrage of questions from writers and editors. That same level-headed advice appears on every page of The Subversive Copy Editor. . . . If you are a copy editor, an aspirant to copy editing, or a writer dealing with copy editors, a $13 investment will be money well spent on your career. . . . . I wish I had had this book 30 years ago; it could have saved me from any number of rash actions and missteps."
Stephanie Deming | Science Editor
"The Subversive Copy Editor is a delightful book. I haven't had this much fun reading about things editorial since devouring Anne Lamott's Bird by Bird. . . ..[ Saller's] book is filled with excellent advice and illuminating anecdotes, and Saller has an engaging writing style and a wonderful sense of humor."
Gary Hernandez | Technical Communication
"Saller writes with equal parts of experience and heart. . . . Whether you are a casual editor, a teacher, a student, or a communications professional, you likely should read this book, if not for the concise fount of wisdom it is, then at least for a knowing chuckle or two. You'll laugh, you'll cry, you'll take notes."
Society of Writers, Editors | & Translators
"The Subversive Copy Editor—what a great title! That alone was enough to make me pick up a copy right away. . . .
The advice it contains is solid and pertinent, and I suspect it could be quite an eye-opener—possibly even life-changing—for some working editors. Saller's humor is infectious, and helps her to make points effectively, so that even experienced editors happy with their working relationships will enjoy the read, as well as possibly picking up some useful suggestions and tips and gaining some beneficial insights."
Stephen K. Donovan | Journal of Scholarly Publishing
"The author succeeds in maintaining momentum to justify these early revelations in the rest of the book. She has written a collection of simple, practical messages for copy editors and their authors, favouring a readable, chatty style that doesn't seek to overemphasize them. Saller's prose thus remains digestible, with sufficient examples to illustrate her message. Although much of the substance of this book will be common sense to an experienced, organized, thinking editor, it is nonetheless worth repeating, particularly in such a readable style."
Barbara Rixstine | Lincoln Journal Star
"A treasure house of advice, stories, suggestions and how to handle the difficult author. If you work with copy or authors, you should have this book by your desk."
Pamela Toler | American Society of Journalists and Authors Monthly
"I'm a regular reader of The Chicago Manual of Style Online's Q & A section, so I felt a certain fan-girl glee when I learned that its editor had published a book. . . . Written in a wry, engaging voice, the book is full of useful advice on meeting deadlines, managing files, coping with email—and dealing with authors."
For more information, or to order this book, please visit http://www.press.uchicago.edu
Google preview here