---
Seeing Like a Rover
How Robots, Teams, and Images Craft Knowledge of Mars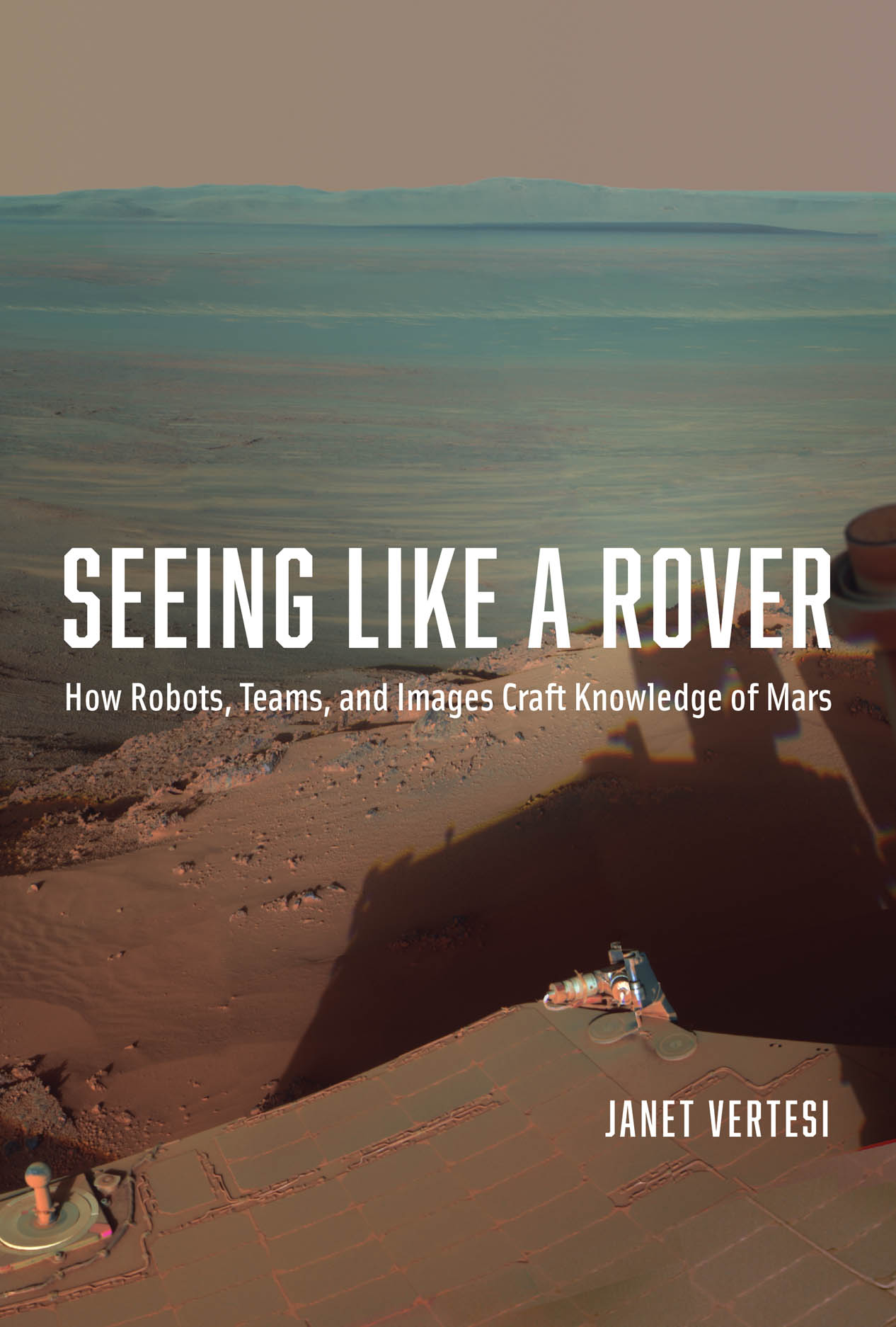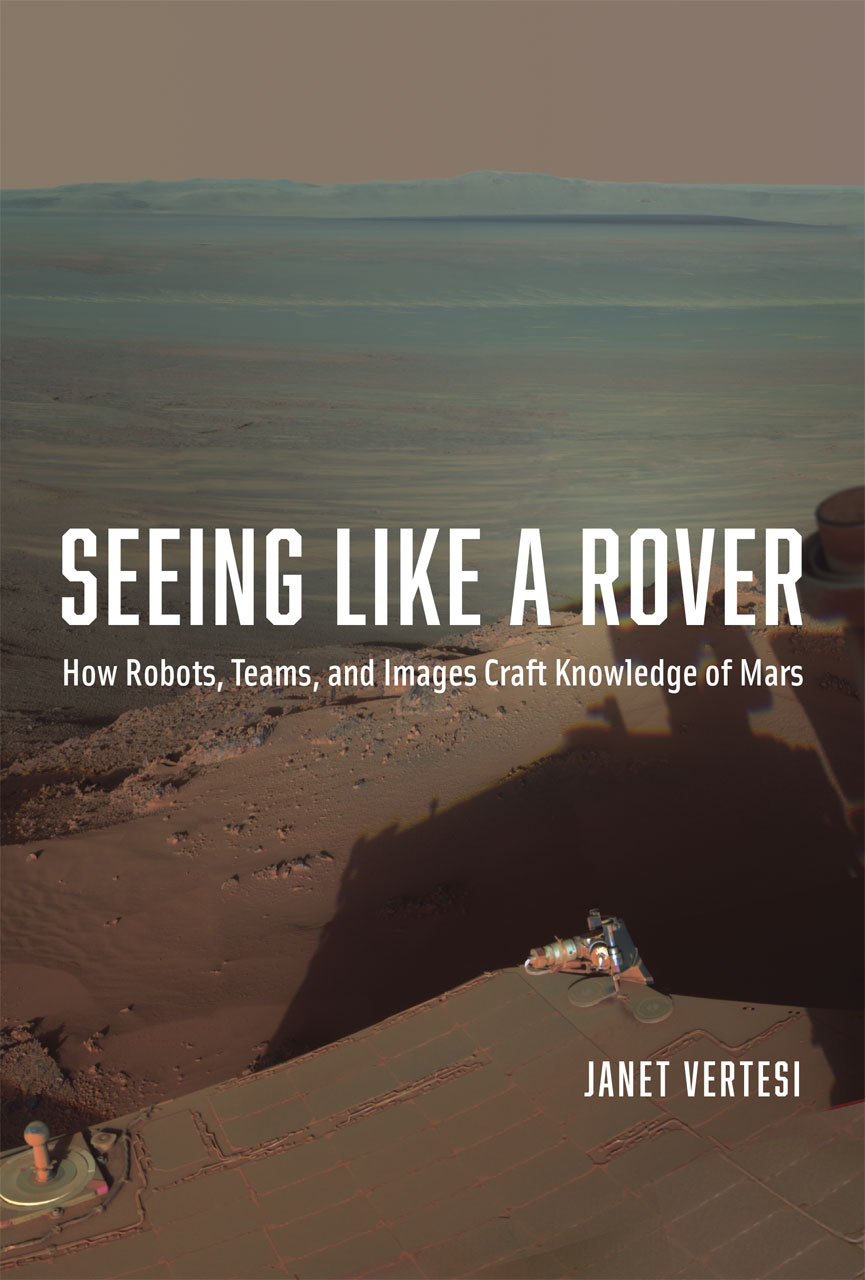 304 pages | 52 color plates, 29 halftones, 4 line drawings | 6 x 9 | © 2014
In the years since the Mars Exploration Rover Spirit and Opportunity first began transmitting images from the surface of Mars, we have become familiar with the harsh, rocky, rusty-red Martian landscape. But those images are much less straightforward than they may seem to a layperson: each one is the result of a complicated set of decisions and processes involving the large team behind the Rovers.

With Seeing Like a Rover, Janet Vertesi takes us behind the scenes to reveal the work that goes into creating our knowledge of Mars. Every photograph that the Rovers take, she shows, must be processed, manipulated, and interpreted—and all that comes after team members negotiate with each other about what they should even be taking photographs of in the first place. Vertesi's account of the inspiringly successful Rover project reveals science in action, a world where digital processing uncovers scientific truths, where images are used to craft consensus, and where team members develop an uncanny intimacy with the sensory apparatus of a robot that is millions of miles away. Ultimately, Vertesi shows, every image taken by the Mars Rovers is not merely a picture of Mars—it's a portrait of the whole Rover team, as well.
Review Quotes
Monica Grady | Times Higher Education
"Offers fascinating insights into the work that goes on behind the camera, in terms not only of the production of an image, but also of the entire process that surrounds it, from how decisions about which image to take are made, to the calibration of images, colouring, etc. She describes interactions between team members, particularly the differing emphasis placed on images by scientists (who wish to understand Mars) and engineers (who don't want to place the rovers at risk). The balance between risk and investigation was one that had to be adjusted every day, and the fragments that Vertesi offers of conversations during daily Science Operations Working Group team meetings illustrates the constant trade-off and negotiations necessary to ensure the success of the rover traverses. . . . A most entertaining read."
Andrew H. Knoll | Times Literary Supplement
"In Seeing Like a Rover, Vertesi tells us little about scientific results - what the rovers saw. Her interest lies elsewhere, in scientific practice - how the rover images were taken, calibrated, manipulated, annotated and debated, and what this tells us about the nature of planetary exploration. Vertesi is an ethnographer embedded in a peculiar world where humans and robots work as equal partners - Margaret Mead among the Starfleet. Seeing Like a Rover examines the structure and sociology of science, using the MER mission as exemplar. Its meticulous observations and commentary will reward those with a serious interest in how science gets done."
 
Lunar and Planetary Information Bulletin
"Vertesi's account of the inspiringly successful rover project reveals science in action, a world where digital processing uncovers scientific truths, where images are used to craft consensus, and where team members develop an uncanny intimacy with the sensory apparatus of a robot that is millions of miles away. Ultimately, every image taken by the Mars rovers is not merely a picture of Mars--it's a portrait of the team as a whole."
Jeff Foust | The Space Review
"Vertesi takes the reader into meetings of the rovers' Science Operations Working Group, where the project team meets to plan the next day's activities by the rovers. . . . A fascinating look inside how a mission operates."
Carla Nappi | New Books in Science, Technology, and Society
"Fascinating. . . . Vertesi proposes a way of understanding image-making practices as a kind of teamwork: learning to see like a rover, here, is an embodied, skilled, social achievement. Building on Wittgenstein's notion of seeing as, Vertesi conceptualizes these imaging practices in terms of an analytic framework of drawing as: the Rover scientists 'use digital tools to draw Mars as consisting of different kinds of materials or surfaces, with implications for future viewings and for team relations.' From mapping Mars to robot funerals, it's a wonderful study for readers interested in space exploration, visual studies, sociology, and STS alike!"
Lucy Suchman, Lancaster University
"The outstanding contribution of the book is to bring a richness of ethnographic detail—regarding what was clearly an extraordinary scientific project—into generative relation with contemporary theorizing within science and technology studies.  While the premise that the material practices of science are at the same time always also social is by now well established within the field, this book demonstrates the profound and subtle ways in which that holds in this particular case.  In the process, Seeing like a Rover extends and deepens our understanding of scientific practice as the conjoining of humans and nonhumans in relations of mutual transformation."
Jim Bell, member of the Mars Exploration Rover team and author of Postcards from Mars: The First Photographer on the Red Planet
"Part academic ethnography, part exploration science and technology primer, and part just plain fun storytelling, Janet Vertesi's Seeing like a Rover takes you deep inside the thoughts, hopes, and habits of the men and women who set out to explore the Red Planet through the eyes of a pair of high-tech robotic emissaries. As one of those explorers, I've relived many of the highs and lows of remote planetary investigation through her distinctly social, and sociable, lens. Vertesi places what many incorrectly perceive as a purely technological, asocial, non-interactive activity—robotic planetary exploration—squarely in the context of human behavior.  Her analysis is thoughtful, insightful, and timely, and is sure to influence future explorers, human and robotic alike."
Steven W. Squyres, Cornell University
"Janet Vertesi had a front-row seat for the Mars Exploration Rover project, and for the first time she brought a social scientist's keen eye to the way we operate rovers on Mars. In Seeing like a Rover she doesn't just describe how we did what we did. She gets inside our heads to describe why we did what we did, offering insights that wouldn't have occurred to even the mission engineers and scientists ourselves. It's a fascinating read."
American Sociological Association CIT section: ASA-CITASA
Won

View
Recent Awards
page for more award winning books.
For more information, or to order this book, please visit http://www.press.uchicago.edu
Google preview here