---
Legacies, Logics, Logistics
Essays in the Anthropology of the Platform Economy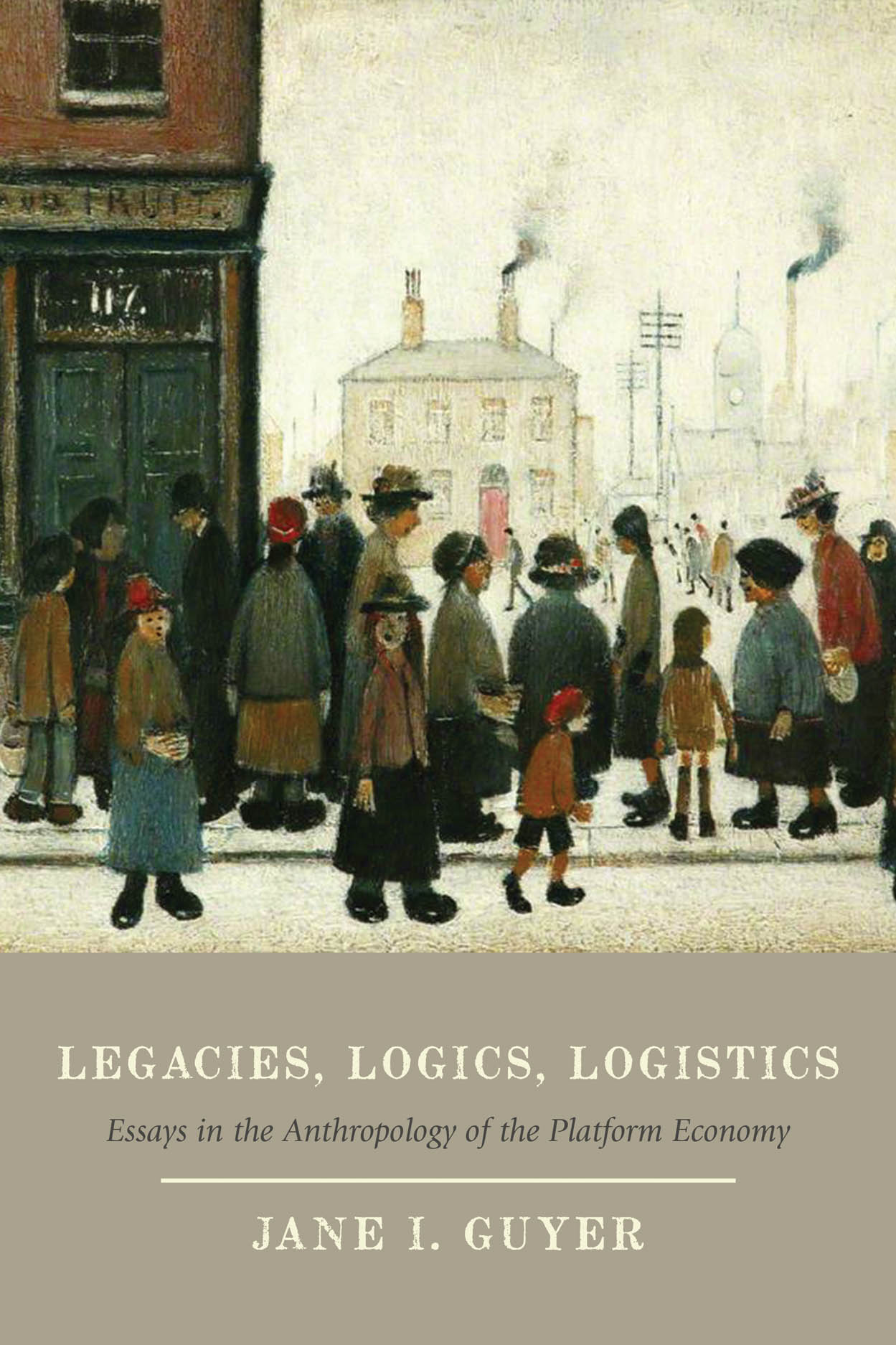 320 pages | 3 halftones, 1 line drawing | 6 x 9 | © 2016
Legacies, Logics, Logistics brings together a set of essays, written both before and after the financial crisis of 2007–08, by eminent Africanist and economic anthropologist Jane I. Guyer. Each was written initially for a conference on a defined theme. When they are brought together and interpreted as a whole by Guyer, these varied essays show how an anthropological and socio-historical approach to economic practices—both in the West and elsewhere—can illuminate deep facets of economic life that the big theories and models may fail to capture.

Focusing on economic actors—whether ordinary consumers or financial experts—Guyer traces how people and institutions hold together past experiences (legacies), imagined scenarios and models (logics), and situational challenges (logistics) in a way that makes the performance of economic life (on platforms made of these legacies, logics, and logistics) work in practice. Individual essays explore a number of topics—including time frames and the future, the use of percentages in observations and judgments, the explanation of prices, the coexistence of different world currencies, the reapplication of longtime economic theories in new settings, and, crucially, how we talk about the economy, how we use stable terms to describe a turbulent system. Valuable as standalone pieces, the essays build into a cogent method of economic anthropology. 

Review Quotes
Journal of Economic Literature
"Examines national platforms in the globalizing economy, exploring how the performance of economic life in practice is made practical through past experiences, imagined scenarios and models, and situational challenges."
Douglas R. Holmes, author of Economy of Words
"Superbly crafted essays that draw on vibrant ethnographic material and creative rendering of social and cultural theory. This collection makes clear the profound nature of Guyer's writing, including her decisive concept of 'platforms,' which stabilizes theoretical and empirical inquiry around key financial issues. Here we see the powerful impact of her career trajectory on the establishment of the foundations of the anthropology of finance."
Caitlin M. Zaloom, author of Out of the Pits
"Guyer is one of our most brilliant anthropologists, and for decades her thinking has deepened our understanding of economic life. Legacies, Logics, Logistics focuses in on the contemporary financial economy, attending to its crafting across scales from conceptual invention to everyday practice. The book's original theoretical ideas present inspiring new ways to think about the most fundamental economic forms. A masterpiece."
Bill Maurer, author of How Would You Like to Pay?
"Legacies, Logics, Logistics is a tour de force. With a fantastic, theoretically astute, and groundbreaking introduction, it situates some of Guyer's most important work in light of new approaches to economies and markets coming out of anthropology, sociology, and science and technology studies. Central to the whole is a searching empiricism and Guyer's own toiling ingenuity as she patiently pokes, prods, and pulls apart the compositions of economic platforms and theoretical pedantry that make up much of our world. For, as Guyer writes, it is of course the case that economics performs the economy. But 'equally self-evidently, not alone.'"
For more information, or to order this book, please visit http://www.press.uchicago.edu
Google preview here