---
Between Raphael and Galileo
Mutio Oddi and the Mathematical Culture of Late Renaissance Italy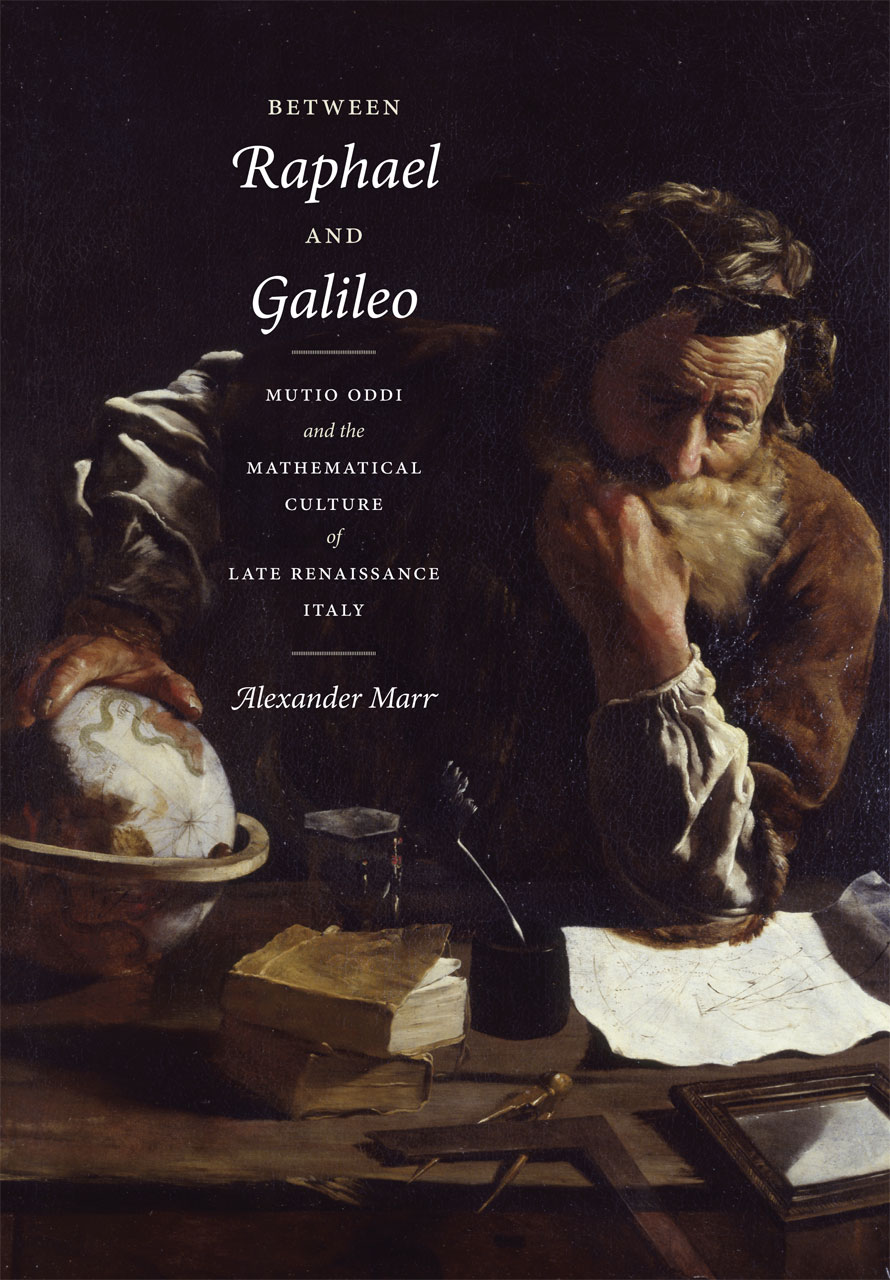 See the
online document
of original Italian quotations referenced in the book.
384 pages | 55 color plates, 25 halftones, 3 line drawings, 1 table | 7 x 10 | © 2011
Although largely unknown today, during his lifetime Mutio Oddi of Urbino (1569–1639) was a highly esteemed scholar, teacher, and practitioner of a wide range of disciplines related to mathematics. A prime example of the artisan-scholar so prevalent in the late Renaissance, Oddi was also accomplished in the fields of civil and military architecture and the design and retail of mathematical instruments, as well as writing and publishing. 
In Between Raphael and Galileo, Alexander Marr resurrects the career and achievements of Oddi in order to examine the ways in which mathematics, material culture, and the book shaped knowledge, society, and the visual arts in late Renaissance Italy. Marr scrutinizes the extensive archive of Oddi papers, documenting Oddi's collaboration with prominent intellectuals and officials and shedding new light on the practice of science and art during his day. What becomes clear is that Oddi, precisely because he was not spectacularly innovative and did not attain the status of a hero in modern science, is characteristic of the majority of scientific practitioners and educators active in this formative age, particularly those whose energetic popularization of mathematics laid the foundations for the Scientific Revolution. Marr also demonstrates that scientific change in this era was multivalent and contested, governed as much by friendship as by principle and determined as much by places as by purpose.
Plunging the reader into Oddi's world, Between Raphael and Galileo is a finely wrought and meticulously researched tale of science, art, commerce, and society in the late sixteenth and early seventeenth century. It will become required reading for any scholar interested in the history of science, visual art, and print culture of the Early Modern period.
Association of American Publishers: PROSE Book Award
Honorable Mention

View
Recent Awards
page for more award winning books.
Alex Danchev | Times Higher Education
"A compelling account of an extraordinarily rich mathematical culture."
Sven Dupré | Intellectual History Review
"By writing a big book about a small mathematician, Marr has fundamentally revised our understanding of what mathematics is, and how it was practised around 1600. Finely researched, eloquently written, and beautifully illustrated; the book succeeds, intellectually and materially, in living up to and exceeding the standards of his subject, Mutio Oddi, as well as those of the finest historical scholarship."
R. M. Davis | Choice
"[A] convincing illustration of Oddi's role as a bridge between the artistic traditions of Raphael adn the scientific culture of Galileo."
Pamela O. Long | Renaissance Quarterly
"This study is an outstanding contribution to our understanding of the mathematical culture of the late Renaissance, not least because it illuminates the ways in which that culture was closely associated with material production, artisanal concerns, and military practices, and brought together people from diverse social strata."
David R. Topper | Isis
"This beautifully written and elegantly executed book on Oddi's life and work navigates several fields: history of science, history of art, intellectual history, visual studies, and material culture."
Renée Raphael | British Journal for the History of Science
"[A] much-needed study of the material, textual and artistic world of the sixteenth-century mathematician."
Rienk Vermij, University of Oklahoma | Technology and Culture
"Oddi is certainly an interesting subject and, as Marr shows, he reflects many aspects of Renaissance culture."
Madeline Muntersbjorn, University of Toledo | HOPOS
"While it may seem that the book would appeal to a limited audience—too much math for most art historians and not enough for most historians of math—interdisciplinary scholarship of this depth is the closest thing we have to time travel. The book is so well written, Oddi's story so engaging, and the illustrations so compelling that a variety of readers will appreciate Marr's guided tour of the Renaissance wherein we learn to see 'mathematics as a culture rather than simply a discipline.'"
Deborah Harkness, author of The Jewel House: Elizabethan London and the Scientific Revolution
"Beautifully written and finely researched, Between Raphael and Galileo represents a major contribution to the literature on the history of science, the history of patronage, and the history of material culture. Alexander Marr's compelling argument about the mediating role of mathematical objects such as books and instruments within a culture that prized interconnectedness intellectually, artistically, and socially grounds the life of the mind in the world of commerce and practice. In Marr's hands Oddi is a revelation—someone who exhibits so beautifully the late Renaissance preoccupation with the past alongside the new science's concerns for the advancement of knowledge that (had he not existed) we might have been tempted to invent him."
Mario Biagioli, University of California, Davis
"Bringing together art history and the history of science, Alexander Marr engages the complex question of what being a mathematician meant in the early seventeenth century. Through a fine-grained reconstruction of the daily practices of Mutio Oddi and his many friends, students, correspondents, and employers, he adds much-needed texture to our map of mathematical networks in early modern Italy, the design and trade of instruments, the circulation of books and paintings about them, and the teaching of mathematics. Between Raphael and Galileo exemplifies cross-disciplinarity at its best. The whole is more than its disciplinary parts, and the scholarship is as solid as any art historian or historian of science would expect it to be."
Paula Findlen, Stanford University
"What was the everyday practice of mathematics in the age of Galileo? How did it serve the needs of artists, architects, scholars, surveyors, engineers, and princely condottieri engaged in the art of war with a compass in hand? Alexander Marr's book deftly reconstructs the multifaceted nature of mathematics in late Renaissance Italy. His study is impressive in terms of the depth and range of the research and its interdisciplinary ambition to situate Renaissance mathematics in its multiple contexts."
For more information, or to order this book, please visit http://www.press.uchicago.edu
Google preview here