---
Awake in the Dark
The Best of Roger Ebert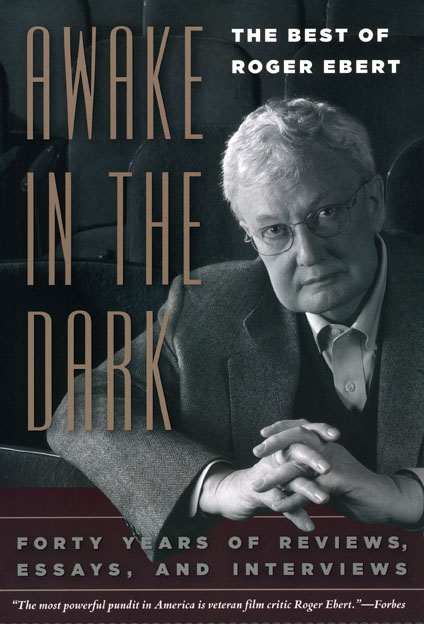 512 pages | 6 x 9 | © 2006
Roger Ebert has been writing film reviews for the Chicago Sun-Times for nearly forty years. And during those four decades, his wide knowledge, keen judgment, prodigious energy, and sharp sense of humor have made him America's most celebrated film critic. He was the first such critic to win a Pulitzer Prize—one of just three film critics ever to receive that honor—and the only one to have a star dedicated to him on the Hollywood Walk of Fame. His groundbreaking hit TV show, At the Movies, meanwhile, has made "two thumbs up" one of the most coveted hallmarks in the entire industry. 

No critic alive has reviewed more movies than Roger Ebert, and yet his essential writings have never been collected in a single volume—until now. With Awake in the Dark, both fans and film buffs can finally bask in the best of Ebert's work. The reviews, interviews, and essays collected here present a picture of this indispensable critic's numerous contributions to the cinema and cinephilia. From The Godfather to GoodFellas, from Cries and Whispers to Crash, the reviews in Awake in the Dark span some of the most exceptional periods in film history, from the dramatic rise of rebel Hollywood and the heyday of the auteur, to the triumph of blockbuster films such as Star Wars and Raiders of the Lost Ark, to the indie revolution that is still with us today. 

The extraordinary interviews gathered in Awake in the Dark capture Ebert engaging not only some of the most influential directors of our time—Martin Scorsese, Steven Spielberg, Woody Allen, Robert Altman, Werner Herzog, and Ingmar Bergman—but also some of the silver screen's most respected and dynamic personalities, including actors as diverse as Robert Mitchum, James Stewart, Warren Beatty, and Meryl Streep. Ebert's remarkable essays play a significant part in Awake in the Dark as well. The book contains some of Ebert's most admired pieces, among them a moving appreciation of John Cassavetes and a loving tribute to the virtues of black-and-white films. 

If Pauline Kael and Andrew Sarris were godmother and godfather to the movie generation, then Ebert is its voice from within—a writer whose exceptional intelligence and daily bursts of insight and enthusiasm have shaped the way we think about the movies. Awake in the Dark, therefore, will be a treasure trove not just for fans of this seminal critic, but for anyone desiring a fascinating and compulsively readable chronicle of film since the late 1960s.


Table of Contents
Contents
Foreword, by David Bordwell
Introduction
Prologue: Death of a Dream Palace
Review of La Dolce Vita

PART 1
INTERVIEWS AND PROFILES
Introduction
Warren Beatty
James Stewart
Robert Mitchum
Mitch and Jimmy: Some Thoughts
Lee Marvin
Ingmar Bergman
Martin Scorsese and Paul Schrader
Robert Altman
Werner Herzog
Meryl Streep
Woody Allen
Spike Lee
Tom Hanks
Errol Morris
Steven Spielberg

PART 2
THE BEST
Introduction
1967: Bonnie and Clyde
1968: The Battle of Algiers
1969: Z
1970: Five Easy Pieces
1971: The Last Picture Show
1972: The Godfather
1973: Cries and Whispers
1974: Scenes from a Marriage
1975: Nashville
1976: Small Change
1977: 3 Women
1978: An Unmarried Woman
1979: Apocalypse Now
1980: The Black Stallion
1981: My Dinner with Andre
1982: Sophie's Choice
1983: The Right Stuff
1984: Amadeus
1985: The Color Purple
1986: Platoon
1987: House of Games
1988: Mississippi Burning
1989: Do the Right Thing
1990: GoodFellas
1991: JFK
1992: Malcolm X
1993: Schindler's List
1994: Hoop Dreams
1995: Leaving Las Vegas
1996: Fargo
1997: Eve's Bayou
1998: Dark City
1999: Being John Malkovich
2000: Almost Famous
2001: Monster's Ball
2002: Minority Report
2003: Monster
2004: Million Dollar Baby
2005: Crash

PART 3
FOREIGN FILMS
Introduction
Tokyo Story
The Music Room
Au Hasard Balthazar
Belle de Jour
The Wild Child
Claire's Knee
Last Tango in Paris
Fellini's Roma
Stroszek
The Marriage of Maria Braun
Wings of Desire
Raise the Red Lantern
The Scent of Green Papaya
Spirited Away
City of God

PART 4
DOCUMENTARIES
Introduction
Woodstock
Harlan County, U.S.A
Gates of Heaven
Say Amen, Somebody
The "Up" Movies
28 Up
35 Up
42 Up
Shoah
Dear America: Letters Home from Vietnam
Crumb
Heidi Fleiss, Hollywood Madam
Microcosmos

PART 5
OVERLOOKED AND UNDERRATED
Introduction
Thieves Like Us
Bring Me the Head of Alfredo Garcia
Saint Jack
El Norte
To Live and Die in L.A
Trouble in Mind
Housekeeping
The Rapture
A Soldier's Daughter Never Cries
The Saddest Music in the World

PART 6
ESSAYS AND THINK PIECES
Introduction
That's the Way It Is: The Color Purple and the Oscars
Legacy of Star Wars
John Cassavetes: An Appreciation
Why I Love Black and White
The Case for an A Rating
Well, Are Movies Better Than Ever?
A Pulitzer for the Movies
Celluloid vs. Digital: The War for the Soul of the Cinema
The Most Influential Films of the Century
In Memoriam: Pauline Kael

PART 7
ON FILM CRITICISM
Introduction
Twenty-five Years in the Dark

Symposium from Film Comment
All Thumbs, or, Is There a Future for Film Criticism?
by Richard Corliss

All Stars, or, Is There a Cure for Criticism of Film Criticism?
by Roger Ebert

Then Again
by Richard Corliss

Auteurism Is Alive and Well and Living in Argentina
by Andrew Sarris

A Memo to Myself and Certain Other Film Critics

Epilogue: Thoughts on the Centennial of Cinema
Coda: On the Meaning of Life and Movies
Appendix: Ten Best Lists, 1967–2005
Index
 
Review Quotes
Martin Scorsese
"Roger Ebert loves movies more, and better, than almost any critic I've ever met. He also has a keen understanding of the way they work, which you will find out as you make your way through this irreplaceable collection of reviews, reminiscences, and critiques. There's a lifetime of thought and appreciation between these pages—a life, really—and you simply can't say that about most other collections of film criticism."
Steven Spielberg
"Roger Ebert understands how to pop the hood of a movie and tell us how it runs, while still enjoying the ride with his box of popcorn or, in some cases, a bottle of aspirin. Awake in the Dark captures both those sides of Ebert and shows him to be a serious friend of film, someone who loves the movies as much as he understands them."
Robert Altman
"Roger Ebert is the grand poobah of them all."
Werner Herzog
"Roger Ebert has become a member of our households, our families. He is the one who tells us all about the movies. And, as his passion for the cinema is so deep, and his knowledge so profound, he is the one we can always trust."
Dave Eggers
"This is a fittingly grand and sweeping collection of Roger Ebert's writing on film. Ebert is the most widely read and most trusted film writer in America because he is still, in some way, an amateur viewer—he goes to the movies as a pilgrim, ready to be amazed, wanting to be enlightened. He believes in the power of the medium, and has not, after all these decades, become the least bit calloused to it. And no one is more eloquent in expressing why and how the best movies work, and why they're so incredibly necessary."
Tara Ison | Los Angeles Times
"To love the movies, [Ebert] tells us, 'does not mean to sit mindlessly and blissfully before the screen. . . . The task of every movie is to try to change how you feel and think during its running time,' and the task of the viewer is to participate in the process. He is moral but not moralistic, preferring stories of flawed people who struggle to do the right thing and fail over simplistic heroes facing simplified choices."
Gary Kramer | Filmbill
"[Ebert's] writing is top-notch. In Awake in the Dark, Ebert has produced his most personal collection of reviews, essays, and interviews, providing insights into the man as much as the movies he loves. . . . This volume contains some of Ebert's most exciting writing."
Library Journal
"Always alert to trends and defending film as an art form, Ebert never fails to connect with his readers."
Nik Dirga | Blogcritics
"[This] excellent new compendium . . . serves as a fine way to remind us that Ebert is, first and foremost, a gifted writer. A survey of his 40 years in the business of loving and explaining movies, it's essential reading for anyone who likes film."
Gordon Flagg | Booklist
"As film criticism becomes more marginalized, Ebert may come to be seen as the last of a kind—the critic who actually has the power to influence a national audience."
A.O. Scott | New York Times
"One of the few authentic giants in a field in which self-importance frequently overshadows accomplishment. . . . His criticism shows a nearly unequalled grasp of film history and technique, and formidable intellectual range, but [Ebert] rarely seems to be showing off. He's just trying to tell you what he thinks, and to provoke some thought on your part about how movies work and what they can do."
Society of Midland Authors: Midland Authors Award
Won

View
Recent Awards
page for more award winning books.
For more information, or to order this book, please visit http://www.press.uchicago.edu
Google preview here